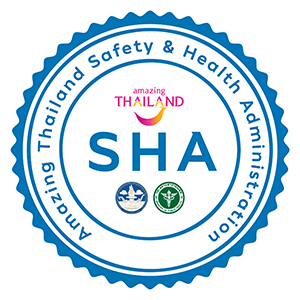 Ban Sainai Resort is named after the ancient local village of Ao Nang district in Krabi province of Thailand. With the embrace of the Southern Thai local cultural philosophy that brings it to life through the contemporary and worries free rustic cottage design.
Experience and Unwind in this peaceful paradise; you are invited to try all the unique private detached thatched-roof cottages inspired from the Southern style architectural wisdom along with the loveliest, the friendliest and most helpful team that will remark the stay a once of a lifetime.
Ban Sainai Resort is nestled well away from the crowds yet still in close proximity to Ao Nang city center by a five-minute drive away. It is approximately 1 km away from Ao Nang city center or 1.6 kms away from Ao Nang beach front. Resort offers a complimentary scheduled shuttle service to Ao Nang beach daily ranging from 09.00 hrs. in the morning until 09.45 hrs. at night. The location of our resort is amidst the tranquil and tropical greenery with its unique setting over a terrain, small hill, surrounded by coconut groves, natural streams and with a highlight of the sheer limestone cliff as the magnificent backdrop. Therefore, sharing a life with natural wildlife is truly fascinating especially for those who admire the nature-made beauty. Staying with us, you will be a key player in helping us save the mother earth by our listed green practices. We had registered our property with the Zero Carbon Resort Project aiming to deliver such sustainable tourism experiences to everyone.
Ban Sainai Resort had firstly opened the door to welcome the very first guests dated back in July 2013 on the private tropical lush greenery of 6.7 acres with 25 cottages available before expanding to 15 more cottages later in the late December 2015. Ban Sainai Resort offers in total 40 simple yet comfortable deluxe cottages, divided into 9 categories; each with different cottage size and configuration. All are designed in a rustic private cottage style offering peaceful holiday getaways for nature lovers. Each cottage is with a private terrace and a seating area; equipped finely with an Air-Condition, Flat TV & Satellite, Safety Deposit Box, In-Cottage Amenities and An En Suite Bathroom with toiletries. Ban Sainai Resort offers a retreat from everyday life and welcomes you into this peaceful holiday getaways.
Staying with us, you will enjoy with our saltwater pool, beside laying our massage parlor by the pool giving you stress-free massage options in the very unique open air rustic shelter. An array of various tropical drinks, freshly brewed coffee, non-alcoholic cocktails or even a tasty and healthy super food smoothie bowl are to be found at our Pool Sala operated daily. And if you are keen on tasting the authentic Thai taste, do not hesitate to drop by our romantic Sai Nai Restaurant; setting aside the lovely pond for a variety of Authentic Thai and other international dishes that will sooth all the palates. In room dining is also another option for those who enjoy the moments in our rustic cottage from 11.30 hrs. – 21.00hrs (last order at 20.45hrs).
Visiting Krabi, Thailand, there are an array of the Must Do Activities that should not be missed. Feel free to seek for further recommendations on the nearby attractions or the Must Visit Destinations from our professional front desk team for 24/7.
---
***Hotel is operated based on the Dry Hotel Policy in which alcoholic beverage or pork products are not available for serving***